Cedar View Trail Construction
Trail Talk... by Ron Meyers
Park & Trail Technician, Jefferson County Conservation Board
Cedar View Trail Update, December 2006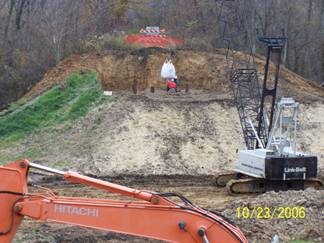 Cedar View Trail Update. In early August we had expected that the contractor would move in and start constructing the trail bridge that is going to span the new four-lane Hwy. 34 By-Pass. Well, that didn't happen. They are there now however and work on the bridge has begun. We need to remind everyone that the trail is officially closed at the bridge site. You can still use the trail from either end to the bridge site, but do not enter the construction site whether the contractor is working or not, it's a danger zone!
It had been anticipated with the earlier schedule that the bridge would have been completed and the trail reopened sometime in November. Obviously that won't happen now. Construction will no doubt be slowed down by winter weather so we're guessing that it will now be a spring completion.
Trail Bridge Art Enhancements. The Jefferson County Trail Council and some volunteers installed the art enhancements on the bridge over Cedar Creek. The bridge took on an immediate new look as the flat steel pieces were secured to the post and rails of the existing chain link fence. It tends to subdue, even hide the sort of plain look that the bridge had with the chain link fencing materials.
Over the next few months as the new materials rust and take on a brown look the sides of the bridge that had just been "a fence" and looked like a fence, should now take on the look of trees, limbs and vines while still serving as a fence. You can see these changes by walking about ½ mile from 223rd street on the Cedar View Trail to the bridge. The JCCB appreciates the efforts of the JCTC, designer Judy Bales, technical consultant Greg Vorhies of SVC, the Fairfield Art Association and the other volunteers who made this enhancement to the trail system possible.