Whitham Woods Pond Renovation, 2012-2013
Park Management News, Feb 2013... by Shawn Morrissey, JCCB Operations & Natural Resource Manager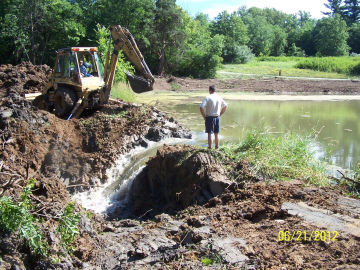 The pond renovation project has begun at Whitham Woods. All vegetation has been cleared from around the pond, the dam was breached and the pond drained.
In the process, approximately 200 fish were collected and moved to ponds within Jefferson County Park.
The pond will need to dry completely before the silt can be removed and work can continue.
This renovation may take several months to complete and it is the type of project where a big mess must be made in order to end up with a nice finished project.
Above text and photo from the JCCB What's New web page.
The Whitham Woods pond in winter, before renovation began, 12/24/11.

The Whitham Woods pond is being renovated, summer 2012 through fall 2013. (07/29/12)

In order to save the pond, it must be dug deeper. (10/21/12)

A fall day, next to the empty pond. (10/29/12)

Details can be found on this sign.

The dam will be rebuilt. (10/21/12)

Fishing will be much better after renovation. (10/21/12)

It takes a long time to dry out the remaining water. (10/21/12)

Memorial stone.

Photos by Jeff Fitz-Randolph