Mileage Markers along the Fairfield Loop Trail
Mileage markers appear every 1/4 mile along the Fairfield Loop Trail.
The first marker, at zero miles, is located at the Maasdam Barns site just south of the Jefferson County Health Center. The markers are placed along the trail in a clockwise direction.
The marker denoting the end of the Loop Trail is just to the east (right) of the first marker, labeled "15.9" miles, the total distance of the Loop Trail. (To be exact, it is 15.93 miles long).
A sponsor's name appears on each mileage marker (see list below). The names were cut from 1/8" stainless steel and epoxyed onto the body of the marker. The marker itself is fabricated from self-weathering 1/4" steel, which has a 50 year life expectancy with no maintenance required.
The 1-mile marker depicts a goldfinch on top (Iowa State Bird), the 1/2-mile marker has a wild rose (Iowa State Flower), and the 1/4-mile marker has an oak leaf (Iowa State Tree).
The Fairfield Loop Trail starts and ends at these markers. The left marker in the photo is the zero-mile marker. The right marker indicates the end of the Loop Trail, at 15.9 miles. In the background is the Jefferson County Health Center.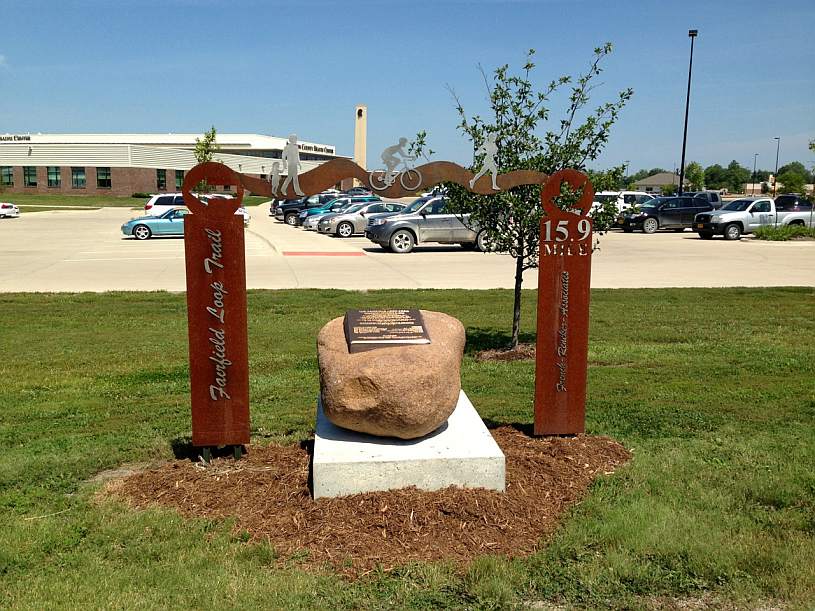 From Ron Blair for the JCTC - Our thanks to all who helped with this JCTC Commemorative Plaque. Sod removed by Jefferson County Health Center workers (donation), pedestal made by Fairfield Precast, boulder donated by Jefferson County Conservation Board from Whitham Woods pond project, boulder mounted to pedestal, and plaque to boulder and grouted, and welding arch by Schaus Vorhies (donation), graphics on plaque, design, materials, and fabrication of arch, wholesale cost of plaque by Creative Edge (donation). All local, almost all donated.