Parts of the Loop Trail will be closed temporarily, beginning August 15, 2016
Contractors plan to began work on Aug 15 on the city sewer line. Since some of the pipes run under or near the Loop Trail, parts of the Trail will need to be closed for periods of time.
Click here to view Frequently Asked Questions about how the sewer construction will affect the Loop Trail. (PDF)
Dateline, Aug 12, 2016 - Press release from French-Reneker - SM Hentges of Jordan Minnesota will begin work on the STEP 1 Sanitary Sewer Improvements on Monday, August 15th. Construction is expected to last through summer 2017. The STEP 1 improvements include installation of 54-inch and 48-inch sanitary sewer pipe from the wastewater treatment plant on Marigold Blvd to Lamson Woods. These improvements, along with pending improvements to the wastewater treatment plant, are part of a phased improvement program to eliminate sanitary sewer overflows within the City of Fairfield.
SM Hentges will begin with mobilizing and preparing for boring under U.S. Highway 34 (the freeway). Construction traffic will be utilizing 227th, Marigold Blvd, Park Street, and Mint Blvd. The public should be aware of increased traffic on these roads and watch for turning vehicles. These roads should not be closed, but may be decreased to one lane from time to time. The loop trail will eventually be closed near mile marker 14.75. Stay tuned to the Jefferson County Trails website and facebook page for updates. The trail closure will include advance warning signs near mile marker 14.25 and 15.5.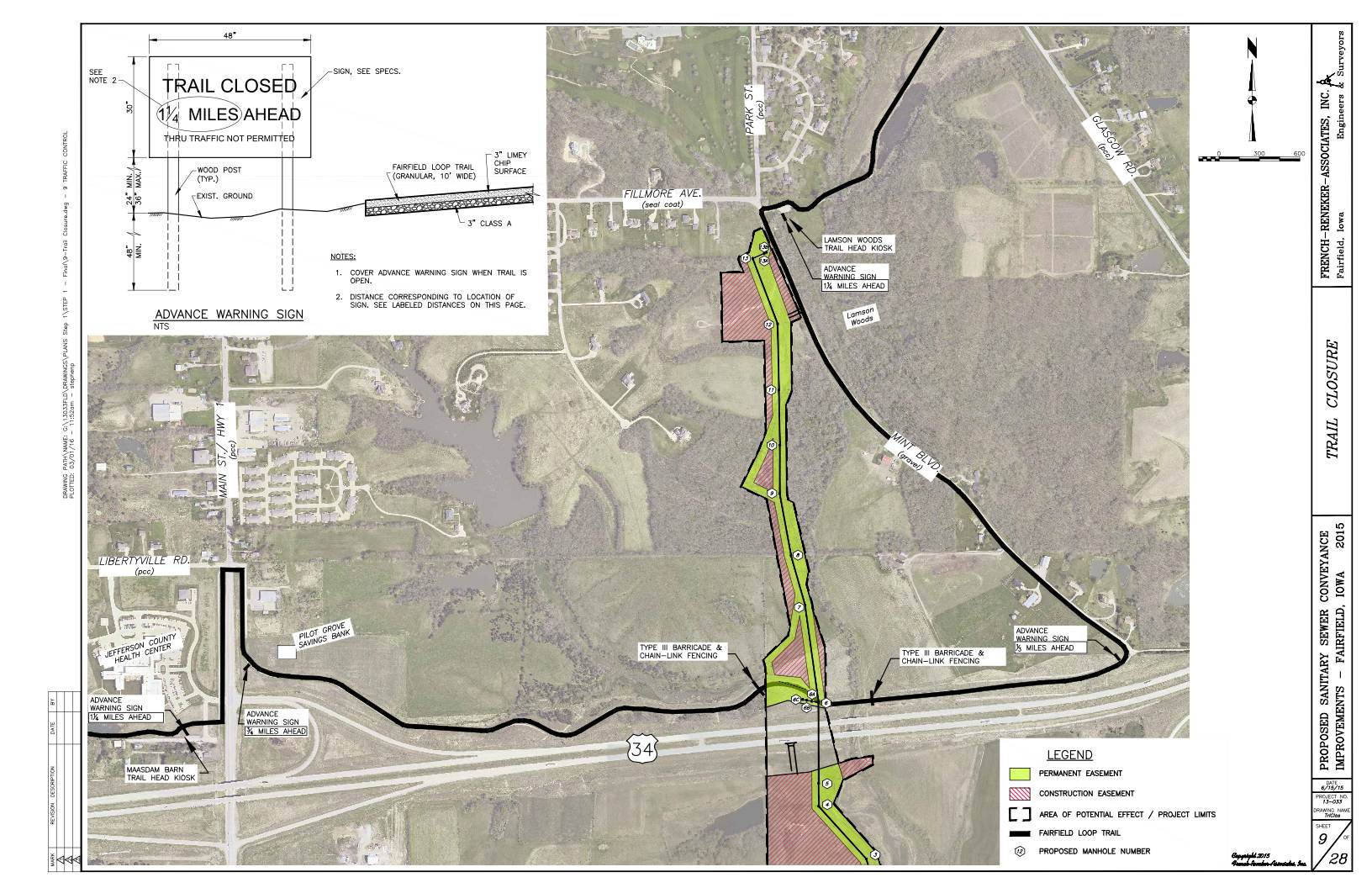 Click here to see a PDF version of the map, which you can enlarge.