Work Day on the Loop Trail, Oct 19, 2013
Notes from Stephen Pedrick, Chairman of the JCTC --
Here are the results of our Work Day -- here's what we accomplished:
Sanded and sealed four benches.
Mulched, trimmed, and cleaned approximately 65 mile markers -- see before and after photos below.
Planted 25 trees along Highway 1 South -- see Trees below.
Planted 60 pots of Mycanthis decorative grass at 8th & Gear -- see Grasses below.
Secured Netting on bridges on the Fry Property.
And several other tasks.
Overall, it was a great day to work and we got a lot of things done! Scroll down to see more photos.
One of the Mile Markers ("Kent Rice and Kathy Peck") that needed the most cleaning (before and after).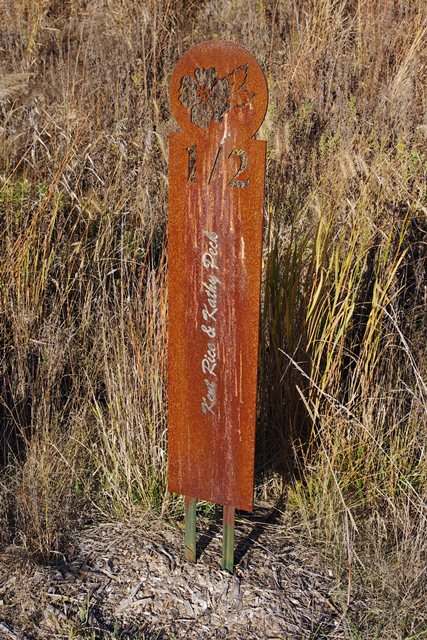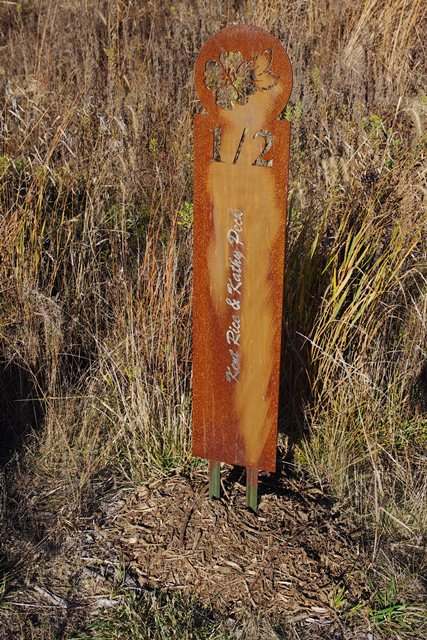 Ron Blair and Larry Nash planted trees alongside the Loop Trail (east side of the Jefferson County Health Center).

A Trees Forever Branching Out Grant paid for 25 Crabapple and Redbud trees.
Nancy & Roger Leahy, and Alan Balmer planted tall grasses along the Loop Trail just east of 8th & Gear.

The completed plantings of Mycanthis decorative grass.
Alan Balmer shoveling mulch for the grasses.

Roger Leahy shoveling more mulch.
Chops is the team mascot.
Mile Marker photos supplied by Stephen Pedrick, rest by Ron Blair, Oct 19, 2013