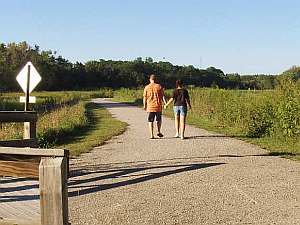 Come explore the Fairfield Loop Trail. Sixteen-miles long, it circles Fairfield.
In fact, we think of it as a long, narrow linear park, with a variety of adventures to see and do along the way.
With a variety of terrain and topographies, with prairies, woodlands, lakes, wetlands, and connections to many city and county parks, it is an experience unlike most trails.
The entire Fairfield-area trail system (about 30 miles) includes old railroad corridors, five artistically-enhanced bridges, paved and unpaved trails, walking-only trails, a state preserve, and 8-miles of trails within Jefferson County Park.
Fairfield is the home to 22 buildings on the National Register of Historic Places, and is the birthplace of a major U.S. agricultural industry. Follow the virtual on-line Heritage Trail and enjoy the rich tapestry of Fairfield's past. Or walk or bike the Heritage Trail (about 8 miles) to see 50 historic and architecturally interesting buildings. And the Louden Machinery Co. Tour tells the Louden story.
Looking to canoe, kayak, study nature, or fish? The Skunk River, Cedar Creek, and Fairfield's 3 lakes give you ample opportunities to enjoy water recreation. And the Loop Trail touches each lake.
Produced by the Jefferson County Trails Council, Fairfield, IA © 2001-2013
Thanks to Lisco for hosting our website.
Every effort is made to ensure accurate information is posted to the site. However, Jefferson County Trails Council does not warrant or guarantee the accuracy, reliability or timeliness of the content on this site or content which is referenced by or linked to this site.
© 2001-2013 Jefferson County Iowa. Updated 10/25/13