The Trails of Fairfield, Jefferson County, Iowa
Through Sept 7th: Vote for new outdoor trail exercise equipment on the JCHC Wellness Trail - details.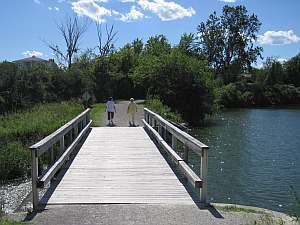 Recreational Trails for walking and biking
Fairfield's Heritage Trails
Fairfield Heritage Trail. Walk, bike, or drive to see 51 historic buildings and places. Or follow the virtual on-line version.
Louden Machinery Co. Tour. Learn all about the Louden Machinery Company, a major U.S. agricultural industry, in this on-line Tour.
In person or on-line, enjoy the rich tapestry of Fairfield's past.
Looking for Water Trails?
Like to canoe, kayak, study nature, or fish?
Skunk River and Cedar Creek host water trails, and Fairfield's three lakes give you ample opportunities to enjoy water recreation.
The mission of the Jefferson County Trails Council is to build, construct, and maintain a network of trails for public use and enjoyment, and to promote, inform, and educate the general public about the trail system.
Produced by the Jefferson County Trails Council, Fairfield, IA © 2001-2014
Thanks to Lisco for hosting our website.
Every effort is made to ensure accurate information is posted to the site. However, Jefferson County Trails Council does not warrant or guarantee the accuracy, reliability or timeliness of the content on this site or content which is referenced by or linked to this site.
© 2001-2014 Jefferson County Iowa. Updated 08/28/14